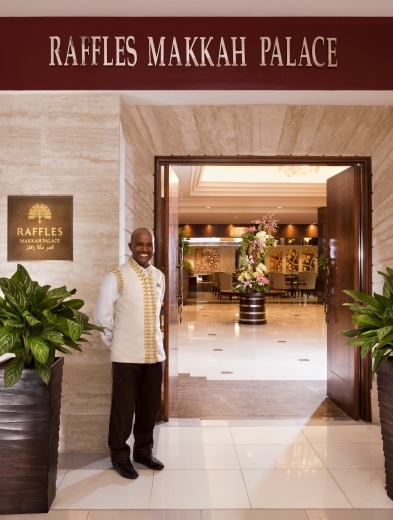 Map and Directions
Closest Airport
Mecca city does not have its own airport. Jeddah Airport serves this city.
For more information and enquiries please contact us at:
Tel: +966 12571 7888
Email: concierge.makkah@raffles.com
web site: http://www.raffles.com
Location
Directly adjacent to Al Masjid Al Haram – the Grand Mosque. Each of the 214 suites overlook the holy site and each provide gloriously generous accommodation, with separate living and dining spaces, and unrivaled attention to detail. This is a refined and elegant sanctuary, an experience of a lifetime, one of the world's great hotels.

Room Type
Raffles Makkah Palace has 195 suites and 9 villas:

- 144 Signature Suites
- 51 Presidential Suites
- 4 Royal Suites
- 3 Signature Villas
- 2 Royal Villas

Facilities
As with any Raffles, our colleagues go out of their way to make your stay welcoming, comfortable and memorable; including:

- Personal butlers
- Two world class restaurants
- Tea lounge
- Ice-cream café
- Raffles Spa
- His and her fitness centers
- Business centre
- Shopping mall at the base of the hotel